Omsi 2 – MAN F90 & Mercedes Benz 814 Traffic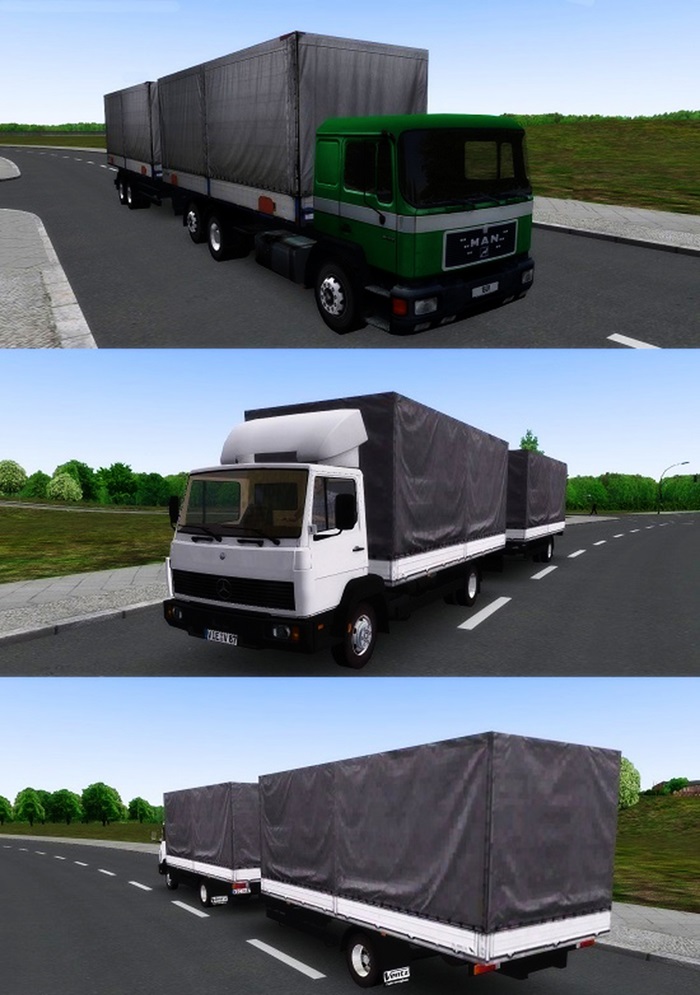 MAN F90 & Mercedes Benz 814 Traffic mod for Omsi 2.
Section fashion OMSI 2 added another excellent work. Game 2 OMSI is very popular among players worldwide. The Bus Simulator you will visit the driver's normal bus. Modding makes this game more diverse, because you can download for OMSI buses 2 and download maps for OMSI 2. MAN F90 and the Mercedes Benz 814 with trailers for the traffic.
How to set the fashion for OMSI 2.
How to install bus in omsi: to set the bus to a folder with the mod folder in Vehicles.
How to install maps to omsi: to install the card, copy the folder to the root folder of the game and if it is required to confirm a replacement.
Setting: Folders MANF90 MB814 and throw in a folder OMSI 2 / Vehicles
Residence in traffic: Open the folder with the card (OMSI 2 / maps / map), we find in it a file ailists.cfg, opens in Notepad.
In the beginning, we find roughly the contents:
[aigroup_2]
NormalCars
vehicles \ VW_Golf_2 \ AI_VW_Golf_2.bus 70
vehicles \ MB_W123_230E \ AI_mb_w123_230e.bus 50
vehicles \ MB_W123_230E \ AI_mb_w123_230e_cab.bus 10
vehicles \ Peugeot 106 \ ai_peugeot_106_S1.ovh 30
vehicles \ VW_T3 \ VW_T3_Van.ovh 10
vehicles \ VW_T3 \ VW_T3_Transporter.ovh 10
vehicles \ Opel_Manta_B \ ai_opel_manta_b.ovh 10
vehicles \ Citr_BX \ BX.ovh 40
vehicles \ MB_T1 \ ai_mb_t1_kasten.ovh 10
[end]
Here and we prescribe our MAN F90 and 814 MB, this will replace any reference (.bus) on their own, in this case,
Vehicles \ MANF90 \ AI_MAN_F90.bus
Vehicles \ MB814 \ AI_MB.bus
After replacement should get something like this:
[aigroup_2]
NormalCars
vehicles \ VW_Golf_2 \ AI_VW_Golf_2.bus 70
vehicles \ MB_W123_230E \ AI_mb_w123_230e.bus 50
Vehicles \ MANF90 \ AI_MAN_F90.bus 20
Vehicles \ MB814 \ AI_MB.bus 30
vehicles \ VW_T3 \ VW_T3_Van.ovh 10
vehicles \ VW_T3 \ VW_T3_Transporter.ovh 10
vehicles \ Opel_Manta_B \ ai_opel_manta_b.ovh 10
vehicles \ Citr_BX \ BX.ovh 40
vehicles \ MB_T1 \ ai_mb_t1_kasten.ovh 10
[end]
Authors:
Vektor
File Details:
RAR / 13 MB
Omsi 2 – MAN F90 & Mercedes Benz 814 Traffic Download - modsup.com