Omsi 2 – PAZ-32054 Global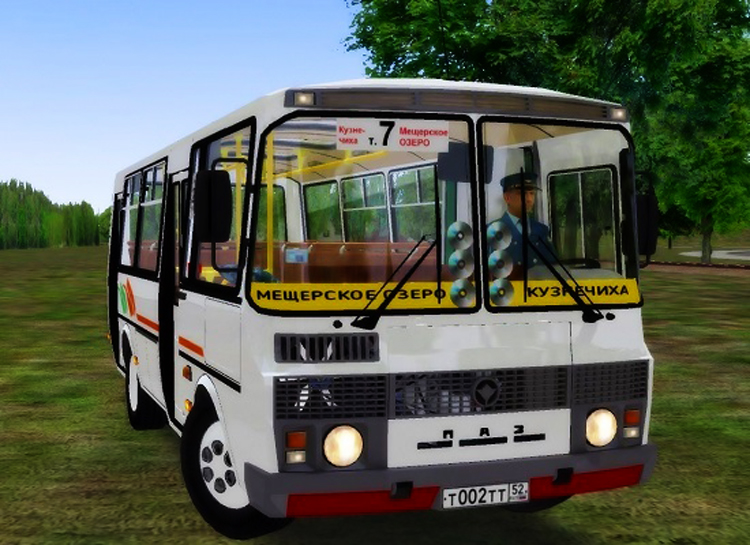 PAZ-32054 Global midibus mod for Omsi 2.
That's what the bus Modified:
Changed the color of the handrail for real.
Removed curtains, MU, "Fiction", "t.46."
Added drives on the windshield.
Added a timer on board.
Added a small frame with a photo on the left of the panel.
Added antenna on the roof.
Added card on the ceiling of the driver (which is used in eyes shone as in reality).
Fixed texture buttons.
Change the texture of the carpet on the engine.
Added a fire extinguisher to its rightful place.
FOV cameras increased by 9 units.
Bus cleared of unnecessary files.
Facilitate texture (+5 FPS).
Added Nizhny Novgorod MU "Mesherskoye lake-Kuznechikha."
Added backseat (toiled with him for a long time).
Fixed color small handrail on the door.
Added Nizhny Novgorod MU (№2) "vol.7″.
It changed the texture of pillows on the engine.
It changed the sound on the first transmission on a more realistic (Recorded with real PAZ-32054).
Change the texture of the curtains on the wall.
Added insurance on the windshield of the year 2008 (later found).
Fixed some texture.
Other minor changes and improvements.
Authors:
k3fir4ik
File Details:
RAR / 103 MB
Omsi 2 – PAZ-32054 Global Download - Uploadfiles.eu