Omsi2 – Budapest-Óbuda v1.1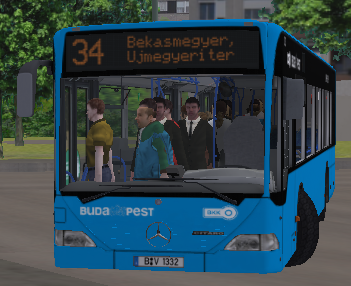 Timetable, AI-list, repaints (for AIs but you can use it) and BKK-FUTÁR voices for Budapest-Óbuda (2013) hungarian real map.
—————INSTALLATION—————
It's very simple, just copy the contents of the OMSI 2 folder to your OMSI root directory.
—————————————
The original map was made by Ikarusfan, this version with timetable was made by me (Burst)
The schedule is based on the BKK 20130705-20130927 database without garage-routes, because there isn't garage on the map.
There are just drivable lines on the timetable, and the tram line 4-6 and HÉV [suburban railway]
The tram and the HÉV use a fictive timetable. The HÉV runs every 10, the tram 4-6 runs every 5 minutes in 4-23 hours.
Default AI vehicles and their download links:
–Original Map Download
-MB 0530 (with 3 doors) | -MB 0530 G (with 4 doors) 
–Ikarus 280 BKV
-3 coaches MXA hév. | In the original map
Tram no. 1000 | In the original map
The MB 0530 repaint was made by BPO-451, the gelenk MB's repaint was made by OmsiBussesHU.
It's a seperated map, only the 2013 version of original.
Use the obuda_2013 hof file!"
Authors:
Burst
File Details:
RAR / 12 MB
Omsi2 – Budapest-Óbuda v1.1 Download - modsup.com